Contains reported transactions from years 2013 to 2022

Single User USB: Do not install on network server. Not for multi-users. The information contained in the Goodwill Registry may not be reproduced for commercial use or resold without the written permission of The Health Care Group, Inc.">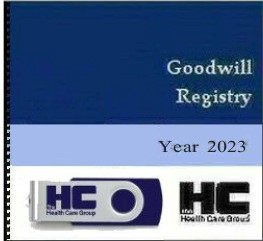 2023 Goodwill Registry & Goodwill Registry Toolkit (Book & Single User USB)
Contains reported transactions from years 2013 to 2022
Single User USB: Do not install on network server. Not for multi-users. The information contained in the Goodwill Registry may not be reproduced for commercial use or resold without the written permission of The Health Care Group, Inc.
How to Use
After you insert the USB on your computer, please read the "ReadMePriorToInstallation.txt" file. To install program, please double click on setup.exe file and follow prompts.
Returns
Once purchased, products may not be returned: No credit or refund will be given, except in the event of physical defect, a replacement will be shipped upon request without additional charge. Replacements will be identical to the product originally purchased in terms of content, media and version. Once order is purchased, it cannot be changed.